Were you looking to escape the hustle and bustle of the city this weekend? Luckily, Boston is surrounded by some of the best beaches in New England. Whether you're looking for a quiet spot to relax or a place to enjoy some water sports, there's sure to be a beach that's perfect for you. Check out our list of the top five beaches near Boston.
We're in the middle of the summer, so we're spending more time outdoors enjoying our favorite beaches. These are the best beaches in Boston, from swimming to picnicking and relaxing on the sand. There are plenty of beaches around Boston that are well worth visiting, but these are the ones that are just too good to pass up. I've included the best beaches near Boston based on their location, amenities, and crowd levels. They're ranked in order of my personal preference, and I hope they help you decide which beach to visit this weekend.
We're super excited to announce that we have partnered with Beach Traveler to bring you Boston's best beaches! Beach Traveler has done its research, and they have chosen some of the best beaches in Boston! You'll find tons of information about these beaches, including directions, hours of operation, parking rates, and more! Plus, you'll be able to read detailed reviews from past visitors who have visited these unique places!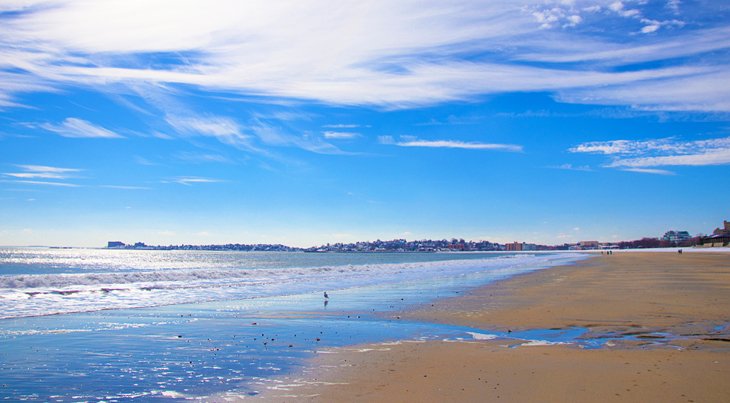 Head to Winthrop Beach for Stunning Views of Boston's Skyline
When you're looking to enjoy some beach time, it's essential to know where the best beaches are located. The secret is that they're everywhere. Of course, you don't need to travel far to visit the best Boston beaches. Just 20 minutes outside of the city lies Winthrop, MA, where you'll find a gorgeous seaside that's a must-see.
Winthrop Beach is a classic, family-friendly Massachusetts beach with several activities to keep you entertained. A playground, picnic areas, and even volleyball courts keep you active. The best part about Winthrop is that you can see the entire Boston skyline from the beach, making this one of the most picturesque beaches in Boston.
Soak Up the Sun at Nahant Beach
Boston is full of gorgeous beaches, but Nahant Beach is among the best. Located on the Nahant peninsula, Nahant Beach is a stretch of sandy beach with some of the most amazing views in Boston. You can watch the sunset from this beautiful beach, and you can also watch the sunrise from this beach. If you want an incredible view of the city, head to the Nahant lighthouse. The beach is located on the Great Island. This small island is connected to the mainland by a causeway.
Relax at Orient Heights Beach
Orient Heights Beach is located in East Boston, the perfect beach for a day at the shore. This area has many small streets and little shops, so you won't have to travel far to find something to do. It's a beautiful and peaceful location and very close to the North End.
I've visited Orient Heights Beach many times and enjoyed the atmosphere and scenery. Even if you don't have kids, you'll love this beach. Several parking lots and street parking spots are available, so you won't have to worry about finding a place.
Visit Revere Beach for a Classic New England Beach Day
Revere Beach is one of the most beloved beaches in Boston, and for a good reason. Not only is it a gorgeous stretch of sand, but it also has a ton of perks. It's easy to get to, and there's no parking fee. The beach is accessible by bus, making it even easier to access. You can also walk along the beach, and plenty of shops and restaurants are nearby.
Explore the Sandy Beach at World's
World's End Park is a public beach between Fort Point Channel and the Atlantic Ocean in Boston, Massachusetts. It was the world's first beach, and today it remains a popular destination for residents and tourists alike. The beach is surrounded by a large, open park where one can enjoy a picnic, play sports, relax, and watch the waves roll in. It's also a trendy spot for surfers.
Frequently Asked Questions Beaches
Q: What's going on this weekend at the beaches?
A: There will be a Beach Cleanup event starting at 11 a.m. Saturday and 1 p.m. Sunday. The beach will be closed to swimming and fishing, but everyone can enjoy the beach and surrounding areas.
Q: Where should we go this weekend?
A: There are many fun beaches in and around Boston this weekend. Try out these favorites.
Q: We can't choose just one. Which beach should we visit?
A: You can visit as many beaches as you want, but a few suggestions below will help you decide.
Q: What makes this weekend's "Beach Week" so unique?
A: Three things make this weekend special: the beaches, the event, and the fun. I think that the best beaches in Boston are by the North Shore. It is beautiful, and the people are very kind. Also, there are many activities between the beach days, like shopping or dining out. So, it is a two-day experience.
Q: Which beaches are the best in New England?
A: There are so many beautiful beaches in New England. We've narrowed it down to the top five beach towns: Cape Cod, Rhode Island, Martha's Vineyard, New Hampshire, and Nantucket.
Top 5 Myths About Beaches
1. The water at Beantown Beaches and Coney Island will be cold.
2. We will be serving burgers and dogs.
3. It's a "party weekend".
4. No lifeguards will be on duty.
5. Bring your floaties.
Conclusion
The beaches near Boston are known for their beautiful white sand and crystal clear water. If you live in Massachusetts, you've probably visited one of these beaches. But if you're new to the area, here are some of the best beaches near Boston for you to see.